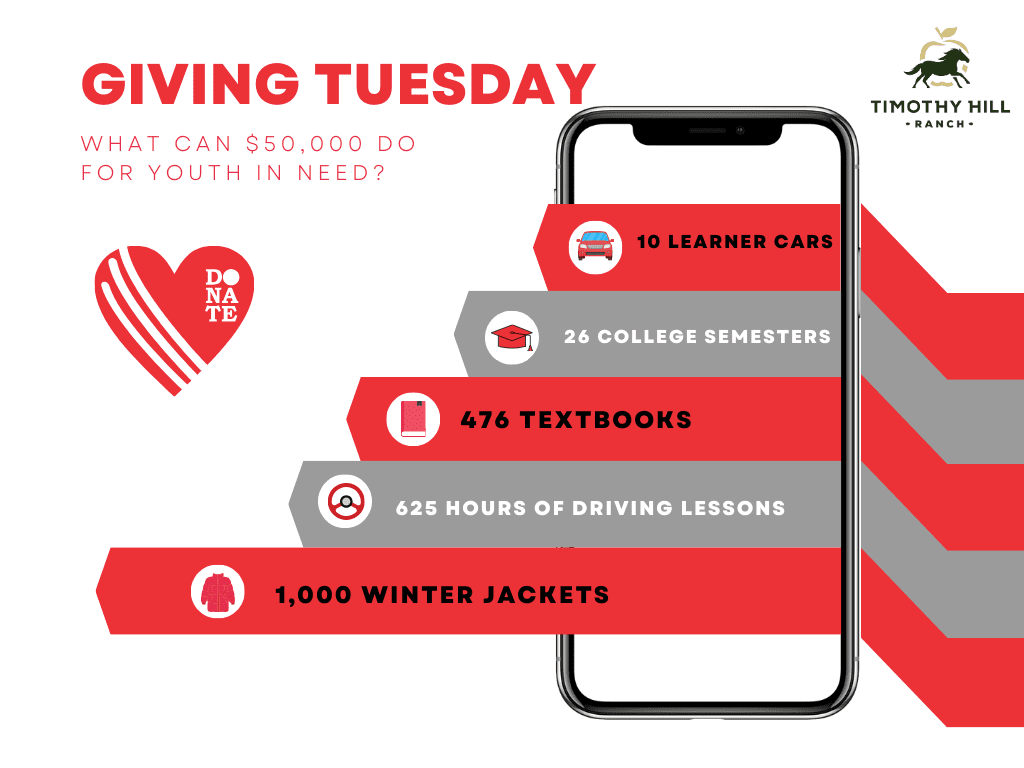 What is Giving Tuesday?
Giving Tuesday is a global generosity movement that takes place on the Tuesday after Thanksgiving. It is a day dedicated to charitbale giving, encouraging people to donate their time, money, or resources to various charitable causes and organizations. It serves as a reminder of the importance of generosity and philanthropy, promoting the spirit of giving during the holiday season and beyond!
Here at Timothy Hill Ranch, we are dedicated to "Transforming Lives Through Christ's Love". This year, we've set our Giving Tuesday fundraiser goal for $50,000 with that vision on the forefront of our mind! With this goal, we will continue to pour love into our young people, and strive to provide an abundance of kindness and mentorship that they've not previously encountered.
Why Give?
In a world often consumed by the hustle and bustle of consumerism, Giving Tuesday emerges as a beacon of hope, reminding us of the profound impact that generosity and kindness can have on individuals and communities. With the population that we are blessed to serve, words like "generosity" and "kindness" are typically foreign because they've never received any in their lives.
YOU can participate in fostering a culture of generosity:
Giving Tuesday provides a unique opportunity to shift our focus from materialistic pursuits to the joy of giving. By participating, you become part of a global community committed to fostering a culture of generosity and compassion. Your contribution, no matter the size, becomes a catalyst for positive change.
YOU can create a ripple effect:
One act of kindness has the power to create a ripple effect. Your participation in Giving Tuesday can inspire others to join the movement, amplifying the collective impact. By sharing your giving journey on social media or within your community, you contribute to a positive wave of change that extends far beyond the initial act. 
YOU can inspire future generations:
By participating in Giving Tuesday, you set an example for future generations. By showcasing the importance of generosity and compassion, you contribute to shaping a world where giving back is not just a one-day event but a way of life. 
"You can count the seeds in an apple, but you cannot count the apples in a seed"
As Giving Tuesday approaches, consider the profound impact your generosity can have on our at-risk youth. By participating in this movement, you join a community of individuals dedicated to making a positive change. Just as you can count how many seeds are within an apple, you have no way of knowing the amount of apples that singular seed can produce. Your moment of geneoristy can be the seed planted, that has a limitless impact on the life of a young person!